Technical information on G109 airframe, propellor
and engine components.
G109 undercarriage
Documents listed below may be downloaded from the members section.
GFA AD
G109_AD-645_Issue_1.pdf
817-39 04.01.94 94-004/2 Überprüfung der Hauptfahrwerksfederbeine
Inspection of the main undercarriage legs 19.01.94 X X Alle Werk-
(however, there does not seem to be a link to the documents on the site)
The following were supplied by Kevin Rodda:
Grob TM817-19 Jun'85 related to G109 s/n 6001 to 6159 and G109B 6200-6317.
Grob TM817-19
Grob TM817-39
Grob TM817-39 Jan'94 related to G109 all s/n and G109B all s/n
The image below shows a B model leg from his aircraft. The other leg broke in half at the end of the landing roll, at the point marked with the red arrow. TM817-39 makes plain what needs to be inspected and what needs to be done.
These documents are available from the downloads page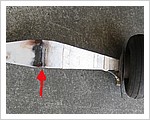 As a stopgap measure before the OEM parts arrived from Germany I used a piece cut from an Ikea flexible cutting board @ 1mm thickness. We made it longer than specs and drilled two holes so that it's retained by the mounting bolts, as well as glued.
---
G109A divebrake caps
Fixing G109A divebrake caps after corrosion lifts gelcoat from alloy.
Remove caps from alloy.
Beadblast with Indu (sp?) bead, an epoxy bead. (Macca wrote "3ddflux")
Avail from Burwool or Abrasive Blasting
When beadblasting is almost completed use a lupe (a 10x magnifier) to check that there are no black bits left.
Then paint with Allodyne (sp), a compound designed to seal aluminium alloy. Then paint with 2pack and then gelcoat over the top.
All the above needs checking and editing.
G109A Canopy Hinges
Nigel Baker reports that a canopy went solo in Sept 2011. They landed safely sans maps, headsets and of course canopy which was found some time later.
G109A Tyres
380×150 / 15×600-5
Try Desser Tires page 13 or 14