Wave over Mt Warning

Byron Bay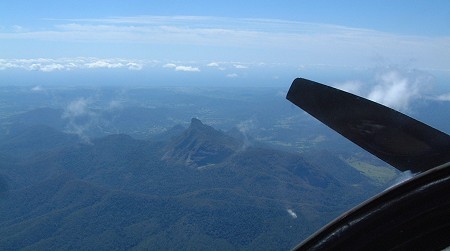 Mt Warning from 7000 feet in Wave
August 12th 2013
Ian and I went up in YHB today at noon with lenticulars over Mt. Warning and 40 knot NW winds aloft. We struck wave over the Mullum fair grounds at 4000 feet, 2 to 3 knots. We had the transponder on and obtained clearance to 8000 feet. When we neared that level, we asked for 8500 and were given 9000, which was nice of them. Unfortunately, the wave soon weakened and we drifted back to YTYH after an hour and fifteen minute flight in GLORIOUS conditions. Probably would have been better to start earlier in the day. Next time you see lenticulars over Mt. Warning, get down to the airfield quick!
Cheers,
Norm

Wave Flight – May 2002
Sunday night the wind swung around to the north – a very unusual wind direction for us here, and often the first indication of possible wave forming over the Nightcap Range west of Mt Warning, if the winds continue to swing around to the west.
Sure enough, the winds increased throughout the night, getting me up at four in the morning to check AVFAX for the wind strength and direction in the upper levels. 270 to 280 degrees, 20kts on the ground to 55kts at 10000 ft – perfect.
I gave David Julian an early wake up call, very early but he was keen and we met at the airfield. Equipped with warm socks, a thermos with tea and some cookies we take off into a fresh westerly. The flight towards Mt Warning was as expected quite rough, we got a little bit of wave over Main Arm valley, but the rotor to the west of Mt Warning showed us where it was really happening. Flying through rotor had David glancing over to me a few times – with a look asking "Is this normal?" – bumping your head on the canopy with seatbelts fully tightened doesn't often happen in the Motorfalke.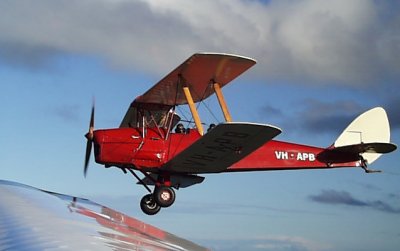 Dave Julian in Tygress
Everything has a price – and at around 3500ft we finally contacted the beautiful laminar airflow, with lift between 2 to 3 meters. At 6000ft contact was made with Coolie tower, and they were very helpful, giving us clearance to 10000, and then to FL120. We climbed to 11500ft and stayed for about an hour, mainly in front of the pinnacle area. We decided to fly back leaving Mt Nadi to the east, and as we headed south along the Nightcap range we got into 3 meters of lift that soon had us at 12500ft climbing fast, doing 160kts over the ground. As tempting as it was to turn into it and see how high it would take us – we had no oxygen and had promised to track to Tyagarah – and descend. The controller was understanding when I reported west of Mullum still at 9500ft. It seemed as if secondary or tertiary waves extended almost to the coast.
Finally we pulled the airbrakes and descended over Tyagarah for landing after two and a half hours of great soaring. A good start to the day. The winds and the wave continued for another two days before the winds came around to the south and abating. Next time the winds swing to the north be ready – the wave might be on again. Next time perhaps with oxygen… Thomas
Last winter Thomas Dattler had six wave flights, three between Mt Warning and the Tweed Range, all with good lift up to around 7000ft + (still 2 to 3 m/s).
The other ones were just ten minutes from the airfield over Mullumbimby and Main Arm for three days in a row, each to over 7000′. It seems that if it works over Mullum, Mt Warning would be even better. You can easily see the rotors twirling there.
Whenever the wind comes from 230 to 300 at 20 to 40 knots, waves are generated. Even with the wind from something like 210, with no ranges upwind, the wave works. Dieter thinks that if the layers of air are right it doesn't necessarily need a range to generate waves.
Thomas has been compiling weather data in order to gain a better picture of the system for some years now.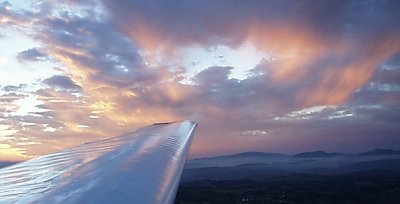 Casino at Sunset on Descent from the Wave.
Related Article: