Two-seater, retractable engine, self launching motor glider
Sold to Lake Keepit syndicate March 2011
The
G 103 C Twin III
is a development of the Twin II with a new 'Discus' plan wing of slightly increased span and modified airfoil section. The cockpit has detailed improvements including better ventilation, relocated airbrake levers to give better purchase, and canopies restrained by gas-filled struts. The unpowered sailplane is cleared for aerobatics similar to the Twin II Acro. The self-launching version (Twin  III SL), which is non-aerobatic, has an electrically actuated mast-mounted retracting engine and steerable  nose wheel, Fuel is stored in a main tank in the fuselage close to the engine, and in an auxiliary tank in the  left wing root from which fuel is moved by a transfer pump. The variable pitch propeller has climb and  cruise setting. ATC.
The Rotax motor has completed 206 engine hours with 591 flying hours and 247 landings.
The wings and fuse have been recently refinished in Polyurethane paint. 
The variable pitch prop was recently reconditioned.
The hydraulic wheel brake system has also been overhauled
The cockpit is well fitted out with CAV varios, Becker radio c/w boom and headset facilities and oxygen. The front and rear cockpit also features dual engine control systems.
Included is a Comet clamshell trailer in excellent condition complete with a hydraulic lift fuse cradle.
Grob 103 C Twin 111 SL
Specifications –
.
Span 18.0 m./ 59.0 ft
Area 17.5 sq. m. / 188.4 sq.ft.
Aspect ratio 18.5
Airfoil Eppler E 583
Empty weight 390 kg. (460 kg.)
Payload 210 kg.
Gross weight 600 kg.
Wing loading 34.29 kg. / sq. m. / 7.03 lb. / sq. ft.
(40.57 kg. / sq. m. / 8.29 lb. / sq. ft)
Engine (SL) (32 kW/ 43 bhp Rotax 505A
Structure GFRP and CFRP
Performance –
L/D max. 36 107 kph / 58 kt
Min. sink 0.70 m/s / 2.3 fps / 1.36 kt
89 kph / 48 kt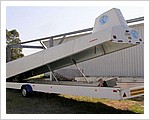 Comet clamshell trailer for Grob III