Grob G109 Cooling System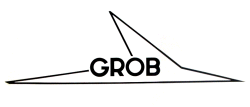 In Australian conditions, the standard G109 Limbach motor tends to run very hot.  The modifications outlined below are one solution which help solve the problem. There is another, however, which works even better and involves modification to the bottom cowl.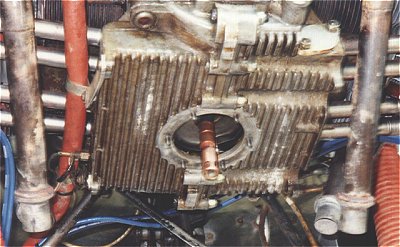 This image shows the extended oil pickup, made from gas fittings.Not obvious in the photo are the transverse holes near the base of the pickup. These are essential.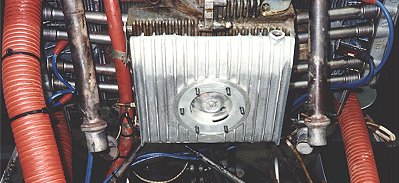 Note the 6 studs – these need special attention to prevent oil leaks and loosening during servicing.Using allen bolts lockwired in place will probably work.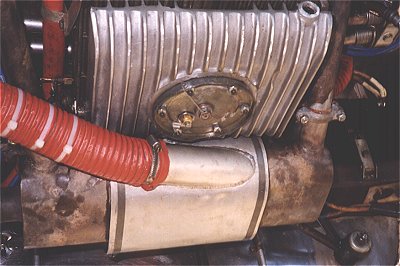 The finished sump – note the mod to the heat exchange.
This GFA approved modification, in addition to a NACA duct in the top cowl feeding directly to the oil cooler which has been exchanged for a deeper Kombi unit, along with Penrite 25/70 oil, has resulted in greatly increased cooling efficiency. As this aircraft (FFN) is often flown in extreme outback Australian conditions, the difference in performance has been remarkable. For instance, getting out of Longreach at midday in summertime usually involved creeping off the runway and sneaking up the highway at uncomfortably low altitude until we struck a thermal, as the oil temp would have hit the limit before we could climb to a thousand feet. Now we can just leave it in fine pitch and climb at near full throttle to 5000!Another modification which has been most beneficial is the addition of dual ignition.At a later date, an external oil filter was added and the bottom cowl was modified to produce better flow through the engine bay. As a result, the deep sump modification was found to be superfluous and was removed.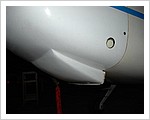 More modifications:
Article from the UK, the following links about the G109B Turbo conversion are
helpful:
http://www.airbornecomposites.co.uk/
(Look under the "GROB" menu)
(the original conversion I presume?)
http://www.pprune.org/forums/archive/index.php/t-191530.html
(Forum about towing with motorgliders)
---
Charn Sophonpanich
country: Thailand
Email: charns<at>inet.co.th
Comments: I have a G-109B in Thailand with cooling problem, and read on your website on your adding an external oil filter and modifying the lower cowl to your G-109. Could you please describe how an external oil filter helped cooling and its location?
The G109B is totally different to the G109, and consequently none of my specific knowledge is applicable.However, as a rule of thumb, the first thing to do would be to increase the air throughput by a) installing a NACA duct of some description on the lower cowl and b) sealing the junction between the air input side of the engine and the still air side, thereby forcing the cool air through the oil cooler and cylinder head fins.

Regards,

Russell.
Limbach Australia
http://limbachaustralia.com/
Limbach Tech Bulletins related to cooling
Limbach Tech Bulletin 28 Engine Temps
Limbach Tech Bulletin 44.1 Engine Temps