Three Women
No, not a review of an Altman movie, just a snippet from a somewhat atypical day at the club.
Sandra suggested I stick around for a little longer, as a friend of hers was about to turn up – which she did, in a very sleek Cirrus, displaying a perfect landing in the process. The new composite aircraft with joystick controls and the slickest cockpit which any of the throng of onlookers had previously seen is full IFR (as is Fran), has nice touches like turbulators on the leading edges and has a full aerofoil cockpit. Fast!
When the hubub died down enough for Fran to climb out, Sandra deviously maneovered her over to the hangar wherein was parked a spotless Ximango (ex Barry Bowerman).
"Beautiful", said Fran, "whose is this?" – followed by a stunned pause and then a shriek of delight. The last time they met, just weeks before, Sandra was not a pilot – but she'd decided to become one, and after much discussion with Isabel (Tiger Moth) had purchased – ab initio, mind you – the aircraft in question.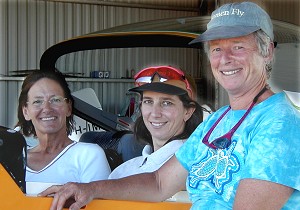 Fran – Sandra – Isabel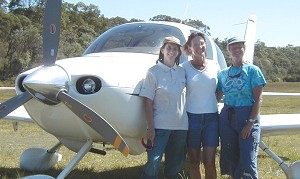 Girls and their toys!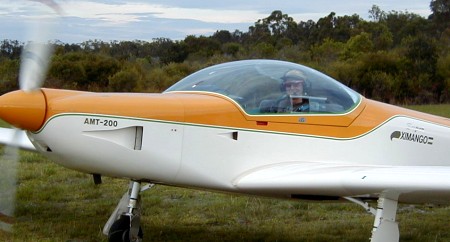 Sandra warming up for a solo.

Cirrus SR20

| | | |
| --- | --- | --- |
| | | Composite Construction |
| | | 4 Seats |
| | | Airframe Parachute |

Avionics

ARNAV,GARMIN,S-TEC/Meggitt

Performance

Takeoff
1310 feet
Takeoff (50′ object)
1865 feet
Max rate of climb
900 feet/minute
Cruise speed @75%
160 KTAS
Stall speed w/flaps
54 KIAS
Maximum range
800 nm
Landing
1000 feet
Landing (50′ object)
1960 feet

Engine

Manufacturer
Continental
Model
IO-360-ES/200hp

Propeller

Manufacturer
Hartzell
Diameter
76″
  2 blade/Constant Speed

Specifications

Length
26′ 3″
Height
9′   3″
Wingspan
35′ 7″
Wing Area
135 ft2
Cabin Length
130″
Cabin Width
49″
Cabin Height
50″
Landing Gear
Fixed, Tricycle

Design Weights & Loading

Max Gross Wt
2900 lbs.
Std Empty Wt
1950 lbs.
Maximum Load
950 lbs.
Fuel Capacity
56 gals/336 lbs.