Err… A GOOD TORQUE WRENCH IS A JOY FOREVER
Consider the nut and bolt. Before nuts and bolts, all we had was bone, stone, wood and, much later, iron nails for fastenings. Archimedes came up with the idea of a screw, but it took Leonardo Da Vinci to invent the nut. Now, nuts and bolts are literally everywhere. In aviation, everything from a Dreamliner to a Drifter is held together by them. We tend to take them for granted, but they need to be understood. Too loose and they come apart. Too tight and the threads can strip. Most people these days have some idea of the required tensions. A good mechanic develops a "feel" which can be very accurate, but even they will use a torque wrench for critical jobs. Torque wrenches came along a lot later than the nut and bolt. There were many skinned knuckles and stripped threads before Conrad Bahr invented the torque wrench in 1918 in order to properly tighten sewer pipe connections in New York.
These days, there are three basic types of torque wrench:
(1.) Deflecting beam.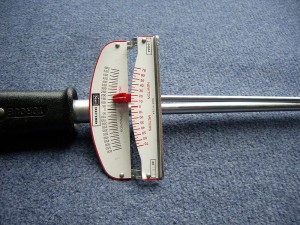 Beam type torque wrench. The indicator bar remains straight while the main shaft bends proportionally to the force applied at the handle. Simple, sturdy and cheap, but not as accurate as:
(2.) Click type.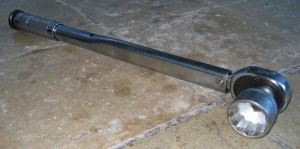 A more sophisticated method of presetting torque with a calibrated clutch mechanism. At the point where the desired torque is reached, the clutch slips and clicks. This is a better option, but is more expensive.
(3.) Electronic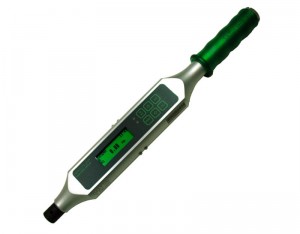 With electronic (indicating) torque wrenches, measurement is by means of a strain gauge attached to the torsion rod. Very accurate, but not really necessary for most applications. It does have a readings memory which can then be easily transferred to a PC which might be handy.
Torque wrenches are magnificent tools, but they are only as good as the bolt specifications themselves. This is where it can get complicated. Bolts are graded by tensile strength and are easily identified by the number of slash marks on the head of the bolt. The more marks the higher the quality. Hardware store bolts with no markings on top are usually soft, mild steel, grade 2 quality, and should be avoided like the plague!
A bolt that has been over-tightened can be just as lethal as one that hasn't been tightened enough. A bolt that gone beyond recommended torque specs can easily break in service.
Keep in mind that torque specs will be less for bolts that have oil on them than for clean, dry bolts. Best bolts for aircraft use are AN, available from Australian aircraft supply houses or US mail order firms like Aircraft Spruce or Great Plains. A Local LAME can often supply individual items.
AN bolts are STRONG! These are maximum values for AN bolts and nuts.
Values are in Imperial measurements. Most torque wrenches are calibrated in both Imperial and metric.
NOTE: If the bolt is threaded into an aluminium casting, the maximum torque would be far less!
VALUES FOR OIL-FREE, CADMIUM PLATED, AN NUTS AND BOLTS:
TENSION NUTS
Bolt Thread Size Foot pounds
8-36 8-36 12 to 15
AN3 10-32 20 to 25
AN4 1/4-28 50 to 70
AN5 5/16-24 100 to 140
AN6 3/8-24 160 to 190
AN7 7/16-20 450 to 500
AN8 1/2-20 480 to 690
AN9 9/16-18 800 to 1000
AN10 5/8-18 1100 to 1300
AN12 3/4-16 2300 to 2500
SHEAR NUTS
Bolt Thread Size Foot pounds
8-36 8-36 7 to 9
AN3 10-32 12 to 15
AN4 1/4-28 30 to 40
AN5 5/16-24 60 to 85
AN6 3/8-24 95 to 110
AN7 7/16-20 270 to 300
AN8 1/2-20 290 to 410
AN9 9/16-18 480 to 600
AN10 5/8-18 600 to 780
AN12 3/4-16 1 300 to 1500
Here is a collection of values for a common RAAus aircraft application. For Rotax, Jabiru, Subaru, etc. see the appropriate manuals or check online.
TORQUE VALUES FOR VW DERIVED ENGINES:
(From Aerovee manual. Aerovee recommends torqueing heads at 10 hours,
25 hours and annually)
Item …………………………..Socket …….Ft. lbs. …..In.
lbs.
Large Case Nuts ………………19mm ……………25 ………….300
Cam Case Nuts ……………………………………….10 ………….120
Small Case Nuts ………………13mm ……………14 ………….168
Cylinder Head Nuts ………….15mm ……………18 ………….216
Rocker Arm Nuts …………….13mm ……………14 ………….168
Prop Hub Nuts ………………..30mm …………70-80 …….840-960
Flywheel Gland Nut …………36mm …………..227 ………..2724
Connecting Rod Nuts ……….14mm ……………25 ………….300
Oil Pump Cover ………………13mm ……………14 ………….168
Oil Pan Cover Nuts ………….10mm …………….5 ……………60
Rear Unit Mount Bolts ……..17mm ……………25 ………….300
PROP
Re-torque wood prop with every change of season. Normal torque is 11 to 14 ft. lbs. DO NOT OVERTIGHTEN OR WOOD CAN BE CRUSHED! Wood props should be left horizontal when airplane is parked.
SPARK PLUG TORQUE (From NGK)
"Torque is one of the most critical aspects of spark plug installation. Torque directly affects the spark plugs' ability to transfer heat out of the combustion chamber. A spark plug that is under-torqued will not be fully seated on the cylinder head, hence heat transfer will be slowed. This will tend to elevate combustion chamber temperatures to unsafe levels, and pre-ignition and detonation will usually follow. Serious engine damage is not far behind.
An over-torqued spark plug can suffer from severe stress to the Metal Shell which in turn can distort the spark plug's inner gas seals or even cause a hairline fracture to the spark plug's insulator…in either case, heat transfer can again be slowed and the above mentioned conditions can occur.
The spark plug holes must always be cleaned prior to installation, otherwise you may be torquing against dirt or debris and the spark plug may actually end up under-torqued, even though your torque wrench says otherwise. Of course, you should only install spark plugs in a cool engine, because metal expands when its hot and installation may prove difficult. Proper torque specs for both aluminum and cast iron cylinder heads are listed below
| | | |
| --- | --- | --- |
| Thread Diameter | Cast Iron Cylinder Head (lb-ft.) | Aluminum Clyinder Head (lb-ft.) |
| 18 – mm | 25.3~32.5 | 25.3~32.5 |
| 14 – mm | 18.0~25.3 | 18.0~21.6 |
| 12 – mm | 10.8~18.0 | 10.8~14.5 |
| 10 – mm | 7.2~10.8 | 7.2~8.7 |
| 8 – mm | — | 5.8~7.2 |
Convinced? Torque Wrench prices range from $50 to $400. As with anything else, you get what you pay for. But remember, a quality torque wrench will be a lifetime source of satisfaction, pride and envy. (Trouble is, everybody will want to borrow it!)